Episodes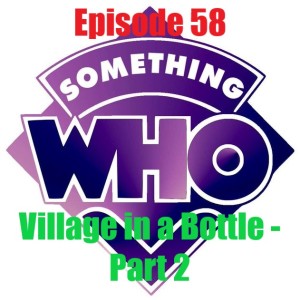 Saturday Mar 05, 2022
Saturday Mar 05, 2022
We welcome back Ellie (a.k.a. TARDIS Monkey) to this episode for the second half of our discussion about a couple of stories featuring villages that are really cut off from civilisation: Season 8's The Daemon, with the 3rd Doctor and 13th Doctor story Village of the Angels from the most recent Flux series. This second half predominantly features Angels, but we talk about the wider Flux story and the links between the two stories.
Please like or share our podcast with people who will enjoy it, so we can build our listener base high for happiness. You can rate us directly on Apple Podcasts or Podchaser.com
You can find Ellie on Twitter @tardis_monkey (that's what we did).
Giles' book A History of the Universe in 21 Stars: (and 3 Imposters) can be found in all good bookshops and also here: https://www.amazon.co.uk/History-Universe-21-Stars-Imposters/dp/1787394654/
Gav's book Doctor Who: Dalek Combat Training Manual can be found here (other retailers are available) https://www.amazon.co.uk/dp/1785945327/
Also find his excellent YouTube series Terry Nation Army here: https://youtube.com/user/Dalek6388. And they've started a new podcast here: https://dalek6388.podbean.com/ which you should definitely listen to, once you've heard this.
Richard has another podcast with co-host Emily, called "If It's Hurting, It's not Working" and it's a fun and informative look at work - why we work, how we work, and what makes a great job. And also what makes a great workplace, how to turn things round when we're not enjoying our work and, in the end, how we can all make our work better. Go to https://ifhurtnotwork.podbean.com/ and https://ifhurtnot.work for more. Episode 8 is a chat with former senior civil servant Clare and you can hear a trailer at the end of this episode.
The opening music is Three Guitars Mood 2 and, yes, that is Richard playing the ukulele and kazoo on possibly the worst ever version of the Doctor Who theme tune at the end.